Being Triple ISO certified helps give you the assurance that we take standards of service for our customers extremely seriously.
ISO 9001 Quality Management Certification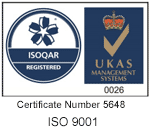 Our compliance with quality management ISO9001 is far from being a 'tick box exercise' or an exercise carried out as the thing to do in business.
It forms part of the fabric of our business operations. The quality management certification symbolises our determination to offer a highly efficient, transparent and traceable service in all our undertakings with you. We are committed to getting things right first time wherever possible and to ensuring we are always fully aware of what is happening on the work we are carrying out for you and our responsibilities to you.
Our business operations, procurement of equipment on behalf of our clients, service delivery, management thinking and processes are all driven by a desire to excel in our delivery of customer satisfaction.
ISO 14001 Environmental Management Certification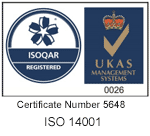 We are dedicated to helping our clients to minimise the environmental impact of their operations through consulting on and providing the right type of energy efficient and resource saving plant.
This commitment to exceeding environmental obligations extends to our own business practices. The environmental management certification ISO 14001 demonstrates our ability to recognise our own environmental impact and take practical steps to minimise waste and maximise efficiency.
The savings made as a result of these increased efficiencies are passed onto our customers wherever possible in the form of competitive pricing.
We are also conscious of the fact that we cannot hope to assist our clients through the delivery of efficient air conditioning and heating systems without first carefully handling our own use of energy and material resources.
BS OHSAS 18001 Health and Safety Certification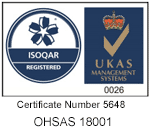 Our certification shows our commitment to:
Shows our commitment to making health and safety a priority
Identifying hazards and putting in place controls to manage them
Reducing workplace accidents and illness to safeguard your personnel, visitors and our staff
Dedication to reducing costs and downtime associated with workplace accidents
Motivate and foster a culture of safe working practices
Compliance with our legal obligations
A commitment to running a business operation where disruption to client service associated with absenteeism is reduced to an absolute minimum.
Getting in touch
For further information on our services or to have any questions answered regarding the standards of service we deliver please contact us: