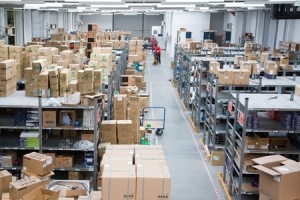 Warehousing units often cover very large, open areas and can provide challenges to heating and cooling systems which aren't powerful or effective enough.
In the UK, temperatures can vary dramatically each day. Keeping temperatures consistent in areas with lots of large open loading areas, staff and machinery is a challenge we have become adept at overcoming.
Temperature control
We are able to assist you by installing and maintaining equipment such as warm air curtains to ensure temperatures are kept relatively stable and contaminants and insect ingress is minimised. Equally the disruptive effects of warm weather can be controlled with the installation of energy efficient air conditioning.
We can help you to retain a comfortable and productive working environment by maintaining gas and oil fueled commercial heating and boilers; warm air equipment and of course all types of air conditioning systems.
When we install plant, all associated ductwork, electrical installation and pipe work can be overseen by our experienced project managers.
Protecting your assets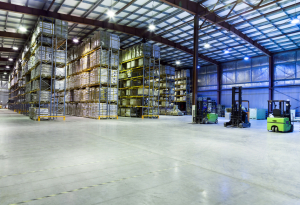 The constant and consistent control of temperature and humidity is particularly important where sensitive stock and equipment are stored or operated for long periods or on a 24 hour basis.
The air-conditioning cooling and heating systems we use are designed to combat the problems of large open air spaces.
We have the experience and knowledge to design large scale industrial HVAC installations.  This means that we can install and maintain equipment capable of controlling the temperature and movement of very large volumes of air, in spaces of virtually any size.
We have access to a wide range of equipment to suit virtually any application at sensible prices.
Ensuring you get the right solution
In consultation with you, we will find the right air conditioning technology for your premises.
Combining the best components to suit your application means that we can provide you with the best blend of capbility, efficiency and cost.
Using industry leading brands such as Airdale, Eden Air, Denco, Daikin, Toshiba and Weatherite, we ensure that reliability is built in to your system by design, with energy efficient, powerful equipment serving your facility consistently.
After installing and commissioning your, temperature control technologies, we are delighted to offer the highest level of responsive after-sales support.  Our maintenance engineers are second to none.
You can trust ABI to bring you the very best air-conditioning and heating solution for your warehousing, logistics or storage facilites.
Why abi?
ABI has amassed a wealth of experience designing large-scale, high-performance air heating and cooling systems to maintain and condition even the most capacious working areas.
Of course, we can equally design smaller systems to work in single units or isolated parts of a complex.
Experience of all the major air conditioning and heating manufacturers means that we select the right equipment for your application every time.
We can tailor the air control systems we deploy to exactly meet your requirements and have no ties to a particular supplier.
Find Out More
For a no-obligation consultation: