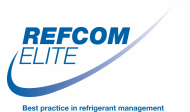 Refcom Elite – Exceeding your requirements
By being Refcom Elite registration we have demonstrated that we promote and work to best practices within refrigerant management. This includes working in compliance with all current legislation to ensure the control, containment and complete record keeping of refrigerant of any type.
To achieve this we have demonstrated that we set ourselves apart from competitors by conforming to higher standards than those set out in the F-Gas Regulations.
Click here for more information