ABI carry out all types of commercial air conditioning repairs in the Midlands UK.  We also fix and maintain air conditioning systems in industrial and public sector premises, quickly and effectively.
Our head office is in centrally located in Aldridge, near Birmingham, West Midlands which allows us to offer air conditioning repairs and maintenance throughout the Midlands.
Our engineers can work on all brands and types of air conditioning from small 'split' air conditioning systems to full-function heater/cooler systems.
We service, maintain and repair a wide range of air-handling plant. Our expertise also extends to large commercial walk-in freezers.
You can view some commonly reported faults by clicking the links below – you may recognise the symptoms.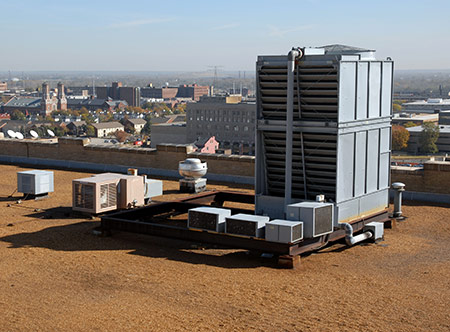 Many commercial air conditioning repairs we carry out solve performance issues where air conditioning systems fail to cool or heat the building or room sufficiently. Other reported 'symptoms' include motor failure, worn bearings causing rattling noises or error codes displaying on hardwired controllers.
You may also have noticed issues resulting in oil discharge, loss of refrigerant gas or symptoms which require pressure leak tests.
This may well occur as the result of a power failure. This can result in one or more units losing power and communication with the condensing unit.
Other power-related issues include failed motors tripping a power breaker or fuse. General failures with printed circuit boards are also regularly found and require more detailed diagnosis to recognise and resolve the precise problem.
Common problems we can repair
Inefficient units due to insufficient maintenance
Controls out of calibration

Valves, actuators and dampers not functioning properly

Re-commissioning buildings air con system after repairs to failed transducers
We are also able to survey, reprogram and retro-commission equipment if the work patterns of your business have changed and the system no longer meets your operational requirements in its current state.
This can improve not only productivity, morale and comfort for your staff but also improve your buildings energy efficiency (reducing costs), create benefits in terms of environmental impact, reduce time spent handling comfort complaints and improve retention of commercial tenants (where relevant).
How to get help now
We are just a phone call away, contact one of our team now: