Free air cooling is a very efficient way to cool your premises with ambient air cleverly used to move heataway  from warmer areas.
"UK businesses could save £23 billion per year by improving the way they use resources and interact with their business premises."
WRAP (Waste and Resources Action Plan)
At ABI we are committed to helping our clients benefit from energy-efficient technology and minimal ongoing operational costs.
Considerable savings are available to you if you take advantage of 'Free Air Cooling.' The following videos demonstrate what 'Free Cooling' is, how it works and how it can save your organisation money whilst minimising energy consumption.
This first video covers how free cooling can help reduce the cost of running data centres and server rooms.
Up to 80% of air conditioning costs can be achieved through reduced compressor operation.
Direct Free Cooling for Data Centres
An Airedale system can use both free cooling and mechanical cooling to deliver energy savings and safeguard uptime and reliability.
We can deploy a 'Free Cooling' solution in virtually any premises. We can help you to choose the right equipment to ensure the best solution for you. You may not be sure if your business can benefit from 'Free Cooling', particularly if you require critical control of temperatures, humidity or air quality. You can rest assured that most applications can benefit from a combination of air cooling, heating and 'Free Cooling' as the next video explains.
'Free Cooling' technology can be utilised in different scenarios, for example at temperatures of 22 degrees C and 27 degrees C, within data centres that are operational 24/7.
Based on London temperatures cumulative hours, the system is capable of providing free cooling for over 95% of the year.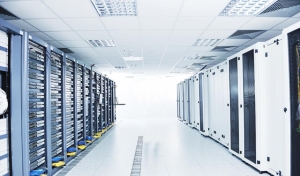 Compact, Efficient Cooling Technology
The technology deployed means that the free cooling thresholds have been raised, even in the more compact models.
Open Aisle containment was found to require 51% requiring mechanical cooling with only 1% in complete free cooling mode. Whereas in the 'Cold Aisle' where supply and return air temperatures are elevated, only requires 32% of the year in mechanical mode with 6% with complete free cooling.
In hot aisle and inRak mode, 25% of the year was serviced by completely free cooling mode.
The Echo compact hot aisle containment mode of cooling was able to provide 89% of the year in free cooling mode.
An active cabinet exhaust draws air from the hot aisle at the back of the cabinet, discharges it into a ceiling plenum, where it can be cooled by precision air conditioning units at the periphery of the room.
The Next Steps
We can advise on a range of plant which have life cycle cost benefits including 'free cooling'.
This can unlock a more visible, realistic and accurate view of operating costs and is of paramount importance to manufacturing, industry and indeed any organisation which undertakes new product development.
A fuller understanding of how these innovations can help reduce operating costs can in turn help you to project future costings, which of course can be attributed to each new product and compared with future revenue projections.
Get In Touch
Whether you are just beginning to explore the possibility of air conditioning refurbishment, or are planning to invest in the near future: