Weatherite have been established for over 40 years and are leading manufacturers of packaged air conditioning, air handling and cooling equipment in the UK
Their plant is used across all sectors including commercial, financial, manufacturing, education, health, retail and leisure.
ABI Are Experienced Weatherite Installers
We are able to install Weatherite packaged solutions tailored to your requirements. Many of their systems can have fully web-enabled controllers which enable performance data to be interrogated via any PC, tablet or laptop device, from any location.
Just some of the Weatherite plant we can install includes:
Packages Rooftop Equipment
Data centre cooling
Central station air handling equipment
Packaged heat pumps are fully web enabled
Replacement air conditioning solutions
Air cooled condensing units incorporate fan motors and blades which are carefully selected for maximum performance at minimum sound levels
Bespoke rooftop solutions
We would ensure that all rooftop units were manufactured to your individual application prior to installation. Up to date features include high efficiency EC fans; variable speed drives; high efficiency scroll compressors and the latest BMS control systems.
All Weatherite plant is tested and pre-commissioned prior to it arriving on site. This keeps loss of time, disruption, downtime and waste to an absolute minimum.
Direct Free Cooling Equipment for Data Centres
Using direct outside air free cooling, Weatherite systems can:
Maximise energy savings
Increases in lifetime of cooling equipment as a result of reductions in the mechanical cooling operating time
Modular formats allow solutions to be scaled up
Systems can be installed outside the data centre if space is an issue
Standard units ranging from 8kW to 125kW.
High density data centre solutions – rooftop systems can be built up to 400kW.
High Efficiency Air Handling Units
Weatherite air handling units such as the WispAir can be manufactured to your operational needs.  A high level of flexibility is available in terms of configuration, capacity and components.
The performance, size and even shape of Weatherite air handlers can be customized to your requirements.
They are built with reduction in maintenance frequencies and down time in mind, high levels of operating efficiency and exceptional capabilities to reduce energy consumption whilst maximising the equipment's longevity.
Heat recovery units can also be supplied and installed to maximise on your energy efficiency.
They also feature robust construction, quiet operation and exceptional control of acoustics and vibration.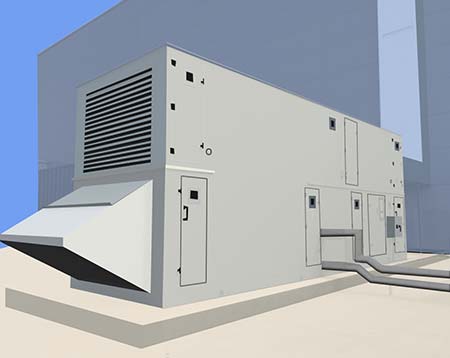 Air conditioning and air handling plant installed 15 or 20 years ago is likely to be reaching the end of its useful life. This can lead to spiralling energy costs and downtime for FM providers and end users.
However by carefully surveying your site we can make use of solutions such as Weatherite 'direct replacement units' which are made to fit directly into the footprint of the old, end-of-life unit. By carefully considering the existing system as much of the existing infrastructure can be retained as possible.
This combines the energy efficiencies that come with modern innovation, reporting and control of modern technology. Crucially it can save many thousands of pounds through the retention of existing ductwork and services where appropriate (saving on labour costs as well as equipment).
Get In Touch
For more information, please get in touch using one of the methods below: