ABI carry out a comprehensive and extended range of services and maintenance work for several key clients in quite distinct fields.  We have a positive 'can-do' attitude to all of our undertakings and we are open and honest at every stage from initial planning to completion of a project. Take a look at a selection of projects we have completed in our case studies below.
To discover more about specific ways in which we can help your company or premises to reach its optimum performance and efficiency please contact us.
Click a title below to read more.
We carried out this work for one of the largest mobile communications providers in the world. We worked to upgrade 2 comms-cabins to an energy efficient specification.
Highly Efficient Passive Cooling With 'Free Cooling'
We delivered energy saving 'Free Cooling' technology to the system, highly beneficial to the client and to the environment. Using this excellent 'green' technology to maintain ideal temperatures in the cabins, ensures a saving on energy required and a permanent reduction of the carbon footprint behind routine cellular communications technologies.  Working 'Free Cooling' requires minimal energy to maintain cooling air-flow.  Contact us here for more information about how Free Cooling can help your business.
The cabins which we worked on for this job were situated within the grounds of a hospital in High Wycombe, Buckinghamshire.
We carried out the system upgrades quickly and efficiently to ensure that we created no disruption to critical day to day operations.  The hospital and cabins remained operational throughout the process.
Work Carried Out Included:
Upgrading 2 communications cabins
Reducing energy requirements of systems while maintaining temperatures
Work involved on both high level and low level cabins
Old split systems replaced
2 Packaged systems replaced
Implementation of 'Free Cooling' maximum energy efficiency technology
ABI Carried out the entire job including lift & shift, electrical & ducting.
All old, redundant equipment was disposed of and recycled where possible after replacement was completed.
Clients: Commercial & Industrial Sector
Types: Annual, bi-annually, quarterly, planned only labour, semi-comprehensive, all tailored to suit your requirements.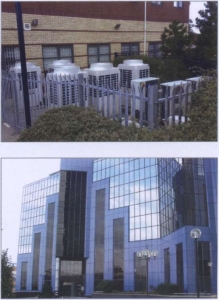 Our Services comprise of:
All types and sizes of Commercial and Industrial Heating from simple Atmospheric Boilers through to Warm Air Heaters and 'blown' Gas/Oil Burners and associated equipment.
Any Air Conditioning system from small 'Splits' or Packaged Units, through to Large Chillers, Dry Coolers, DX, Water Cooled, Free Cooling, Glycol etc.
All types of Ventilation from a Window Fan to a complete Ducted System.
In addition to the above specialist services we will also carry out Electrical work, both in house and managed sub-contract for larger projects. Associated Services also include Water Treatment, Plumbing, Refrigeration and indeed we have even managed a complete building services package via our list of chosen preferred suppliers, where clients want a 'one stop shop' for Service & Maintenance.
These range of services are not offered as a 'jack of all trades' approach, most staff are directly employed and all are qualified specialists in each field, so whatever discipline you require, you can be sure that you are getting a professional service by time served tradesmen.
Planned Preventative Maintenance Visits
24hrs Reactive Call Out
Fault Diagnosis & Repair
Quoted Repairs/Extra Works
Customer Help Desk
Service Level Agreements
Computerised Management System Reports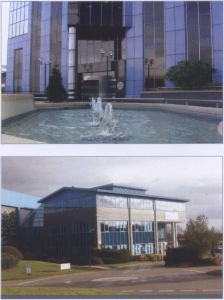 ABI have the professional expertise to design, install and maintain a variety of HVAC systems and associated services and are always pleased to hear from clients seeking an innovative, honest approach to design, installation and maintenance solutions.
We have been successfully working through some very turbulent times recently, as the UK and construction industry attempts to defy the recession.
We hope the future offers more opportunities than problems for us all and our individual experience and creative valued engineering puts us in good stead for a prosperous future.
What We Do?
Mechanical and electrical service and installations
Mechanical and electrical validations and energy initiative reports
Mechanical and electrical facility contract management including: Pro-active, re-active service and project advice
Periodic and legal obligation advice in the monitoring and assessment of contracts
Why Choose ABI?
A fully integrated, managed and coordinated approach to mechanical and electrical services
In-house mechanical design and feasibility studies
Customer focused approach
Proven process management from concept to handover
Qualified, experienced and knowledgeable workforce
Quality assurance and valued engineered projects completed with full warranties, on time and on budget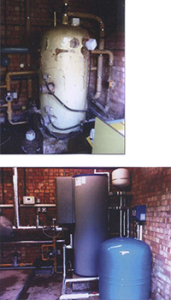 The 1960's manufactured appliances, associated controls, pumps, flues and main electrical services were stripped out in its entirety during the Christmas shut-down.
A new fully modulating gas fired boiler arrangement, heat exchanger, calorifier, pressurisation unit, inverter driven circulation pumps and mains electrical distribution services installed and commissioned.
The entire process took only 3 weeks from conception to completion.
Project duration: 6 Weeks
Scope of Works: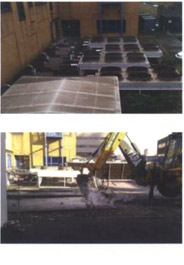 The brief was to replace the existing Searle manufactured dry coolers to give an increase in cooling capacity and a more energy efficient operation. The consultant for the project designed the application, and then in conjunction with ABI the equipment was specified to achieve the solution. ABI then undertook and managed the relevant phases of the project. By replacing the pumps abi were able to deliver in the region of 50% added heat rejection capabilty, and by choosing latest technology EC inverter driven fans an actual decrease in operating costs was an added bonus.
Phase 1:
Due to the fact that the building wouldn't cope with losing 50% of its heat rejection capabilities, it was decided that one of the new proposed dry coolers would be installed temporarily before removing two of the old ones as pictured here.
Phase 2:
The old concrete pads were sinking due to poor foundations, so following validation the client and consultant decided that a reinforced concrete raft would be laid to avoid any further subsidence and thereby future proofing the proposed installation.
Phase 3:
Once the concrete was dry and the foundations had been checked, two of the new dry coolers were craned on to the first part of the raft before the pipework was fabricated accordingly onto the existing Flow and Return services.
Once the first two DC's were operational, the above process was repeated for the second half of the concrete "Raft" thereby allowing further upgrades to the water circulation pumps, building energy management controls, drainage, protective barriers and pipework insulation, finally completing the project in approx 6 weeks total.
The site, and more importantly, the data hall, remained open and fully operational throughout the duration of the project keeping approx twenty Indoor AHU's functioning correctly. A most important criteria of a 24 hour communications equipment environment.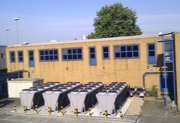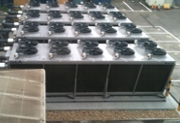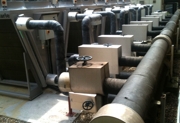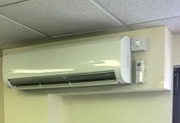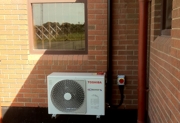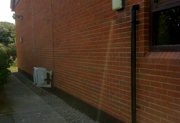 Project Duration: Approx 3 days
Scope of Works:
To install comfort Heating and Cooling to office and mess facilities, it was also important to keep the installation as neat as possible as the office was occupied by senior management and visitors were frequent at this site. There was also a need to ensure vandalism did not become an issue so all interconnecting services were hidden in 4″ plastic drain pipe and some of it buried beneath the ground surface.
Project duration: Approx 6 weeks
Scope of Works:
To remove all HCFC R22 from all Air Conditioning equipment from various FSS sites throughout the country, abi chose to use a drop in replacement R417A on small split type systems, and on larger packaged and chiller applications RS44 or RS45 was chosen as the replacement refrigerant. All systems have operated perfectly well since the programme was carried out.
Get In Touch
Whether you are just beginning to explore the possibility of air conditioning refurbishment, or are planning to invest in the near future: